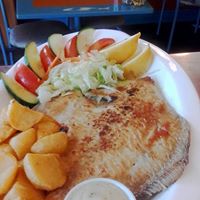 Serves 2 people
Ingredients
400 g of plaice
½ cup of flour
½ tsp salt
¼ tsp black pepper
7 tsp butter
¼ cup of lemon juice
2 tsp chopped fresh parsley
Method
Mix the flour with seasoned salt and pepper in a shallow dish.
Dredge the fish fillets in the flour mixture.
Heat a large skillet over high heat.
Add in about 3 tablespoons butter to the hot skillet.
Saute the fillets, cooking on each side (on high heat about 2 minutes per side) or until just cooked through; transfer the fish to a plate to keep warm.
Add in the remaining 4 tablespoons butter and cook until golden in colour; add in lemon juice, bring to a boil and add in the parsley.
Season the sauce with salt and pepper.
Pour the warm sauce over the fish.
Serve immediately.